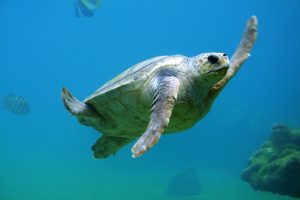 A pair of Florida men have earned themselves federal prison time after they were caught stealing more than ninety in sea turtle eggs. These eggs are protected by federal law as part of the Endangered Species Act (ESA).
One of the men, per the criminal complaint, dropped the other off at Singer Island Beach, located to the north of Palm Beach, one night in May of last year. Officials said the man who was dropped off uncovered a sea turtle nest, grabbed 93 eggs, and then made a phone call to be picked up. Officers from the Florida Fish and Wildlife Conservation Commission saw the poaching and pulled over the men's vehicle. Sea biologists retrieved and moved the eggs.
The men were reportedly trying to market the sea turtle eggs, according to prosecutors.
The ESA's mission is to conserve and preserve endangered species and the habitats on which they are reliant. The US Fish and Wildlife Service and the Commerce Department's National Marine Fisheries Service (NMFS) are in charge of it. The Service is in charge of aquatic and freshwater animals, while the NMFS is in charge of marine species such as whales and anadromous fish like salmon, for example.
Species may be categorized as vulnerable or threatened under the ESA. The term "endangered" refers to a species that is in danger of extinction over its whole range or a large part of it. A population that is "threatened" is expected to become extinct in the immediate future. Except for pest insects, all plant and animal populations are suitable for endangered or threatened status.
This update is published by The Law Offices of Mark Eiglarsh, a Fort Lauderdale criminal defense lawyer. Areas of practice include criminal defense, white collar crimes, federal and state drug crimes, fraud, DUI, sex crimes, domestic violence, and more. With over two decades of experience, Mark is committed to obtaining the best possible outcome for his valued clients under difficult circumstances. For more information or to schedule a consultation, please call 954-500-0003 in Broward or 305-674-0003 in Miami.
This information is provided for educational or informational purposes only and should not be construed as legal advice. The information is not provided in the course of an attorney-client relationship and is not intended to substitute for legal advice.