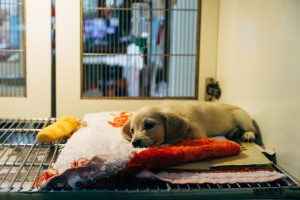 Federal prosecutors in South Florida have charged a licensed veterinarian based in Aventura with obtaining and owning child pornography as well as animal crushing, a federal offense punishing acts involving animal cruelty.
An IP address assigned to the veterinarian's home in Miami regularly accessed a cloud-based file-sharing site storing photographs of child pornography, according to a Cyber Tip obtained by law enforcement. Law enforcement officers served a search warrant on his house as part of the probe. They found a cellular phone allegedly belonging to him, which had many sexually suggestive videos and photographs of minors, as well as talks about child and animal sexual violence.
Some of the chats, per the affidavit, appeared to include images of the veterinarian engaging in sexual intercourse with pets. According to the court filing, agents found thousands of videos of child pornography and other animal cruelty in his cloud-based account.
The case is related to Project Safe Childhood, a federal campaign initiated by the Department of Justice back in 2006 to address the increasing problem of child sexual harassment and violence. Project Safe Childhood, spearheaded by US Attorneys' Offices and the Criminal Division's Child Exploitation and Obscenity Section (CEOS), marshals federal, state, and local tools to help track, detain, and convict those who abuse children through the Internet, as well as find and rescue victims. Visit www.projectsafechildhood.gov for additional information.
To read more about the case, visit this link.
This update is published by The Law Offices of Mark Eiglarsh, a Fort Lauderdale criminal defense lawyer. Areas of practice include criminal defense, white collar crimes, federal and state drug crimes, fraud, DUI, sex crimes, domestic violence, and more. With over two decades of experience, Mark is committed to obtaining the best possible outcome for his valued clients under difficult circumstances. For more information or to schedule a consultation, please call 954-500-0003 in Broward or 305-674-0003 in Miami.
This information is provided for educational or informational purposes only and should not be construed as legal advice. The information is not provided in the course of an attorney-client relationship and is not intended to substitute for legal advice.