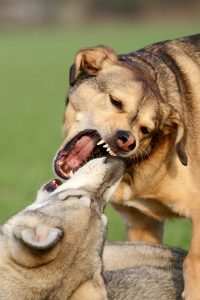 The remaining member of a group allegedly involved in a dog fighting conspiracy was recently sentenced in federal court. The defendant was sentenced to a year and one day in jail after entering a guilty plea after he and his fellow defendants violated the federal Animal Welfare Act.
Evidence presented in court, along with statements made by the pleading defendants in accordance with their plea deals, revealed that one of the defendants organized dog fights and trafficked with others in combat dogs. Another defendant admitted he and another decided to fight their dogs against each other and train a dog to participate in a dog fight, and discussed hiding evidence that one of the owned dogs had taken the life of another dog.
Another group member admitted to providing and administering veterinary and surgical procedures on dogs belonging to the dog fighting conspiracy members, treating dogs that sustained fight injuries, and performing medical procedures to remove the ears of dogs, including for dog fighting purposes. She tended two dogs who died from their injuries after being involved in fights.
To read more, visit https://tampa.cbslocal.com/ 2020/08/25/florida-men- sentenced-to-prison-for-roles- in-pensacola-dog-fighting/ .
This update is published by The Law Offices of Mark Eiglarsh, a Fort Lauderdale criminal defense lawyer . Areas of practice include criminal defense, white collar crimes, federal and state drug crimes, fraud, DUI, sex crimes, domestic violence, and more. With over two decades of experience, Mark is committed to obtaining the best possible outcome for his valued clients under difficult circumstances. For more information or to schedule a consultation, please call 954-500-0003 in Broward or 305-674-0003 in Miami.
This information is provided for educational or informational purposes only and should not be construed as legal advice. The information is not provided in the course of an attorney-client relationship and is not intended to substitute for legal advice.