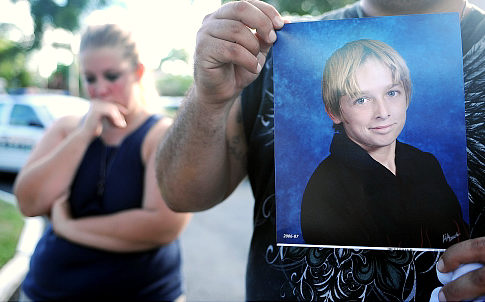 In Deerfield, Fl, a 15-year-old was terribly burned after three teens doused him with a flammable liquid and set him on fire. Authorities were investigating whether he was attacked because he had stopped someone from stealing his father's bicycle the day before. He had refused to attend classes at Deerfield Beach Middle School on Monday because of an incident Sunday.
Instead of going to school, Michael went to the apartment complex to visit a friend. He told deputies that while he was sitting by the swimming pool, he was splashed with a flammable liquid and set ablaze.
The victim, Michael Brewer, was hospitalized with burns over three-quarters of his body after the attack at a Deerfield Beach apartment complex. Three juvenile suspects were in custody, but their names and ages were not released.
Michael was burned on his torso and arms, Broward County sheriff's spokesman Jim Leljedal said. Family members said most of his hair, including his eyelashes, had also been burned off.
A neighbor heard his screams for help and put out the flames with a fire extinguisher. The teen then ripped off his shirt and jumped into the pool.
Michael is expected to remain hospitalized for five months.