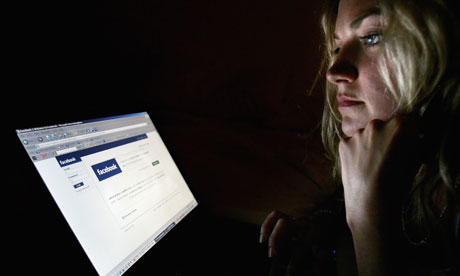 Hacking of Facebook accounts to scam people out of money has become a "major issue" for the social networking site, its head of European public policy, Lord Richard Allan, has told the Guardian.
As a result the site is implementing new ways of detecting when its users' accounts have been hacked, and is adding warnings if it is accessed from unusual locations or by different methods than usual.
Allan said that hacking was a problem that would be countered by sophisticated methods of tracking unusual user behaviour.
"The latest thing you'll see that is a major issue is people hacking into accounts. Now, if you're logging in from an unusual location you'll get extra security questions and if you want to login by a new device [Facebook] notifies you by SMS or email," Allan said, adding that the company's "site integrity" project – which aims to track suspicious activity – is developing new ways to protect its 500 million users.
Ronald K Noble, secretary general of law enforcement agency Interpol, last week revealed that his Facebook identity was recently targeted by individuals seeking access to highly sensitive information on wanted criminals. On the most high-profile case of Facebook identity hacking to date, Noble said: "Just recently Interpol's information security incident response team discovered two Facebook profiles attempting to assume my identity as Interpol's secretary general. One of the impersonators was using this profile to obtain information on fugitives targeted during our recent Operation Infra Red."
Among the new security methods being employed by Facebook are "name verification" – where someone logging on from a new location is shown a number of photos of their friends and is asked to verify their names. Though that is simple for the real user, it is almost impossible for anyone else.
Malicious hacking continues to generate headlines for Facebook, which has 26 million monthly unique users in the UK, despite the company putting in place numerous methods of prevention. In a case recently noted in by the Sunday Times, Abigail Pickett, a British student travelling in Columbia, found that her account had been hacked and was being used to send requests for money to friends on the pretext that she was "stranded" in another country. Facebook told her that the account was in fact being accessed from Nigeria.
A Facebook spokeswoman told the Guardian that the site has "complex automated systems that work behind the scenes to detect and flag Facebook accounts that are likely to be compromised", adding that once "phony" messages are detected then all instances of that message are deleted.
Fraudsters have been hacking into the accounts of Facebook users and duping their friends out of relatively large sums of money, a trick about which the FBI and other authorities had previously raised concerns. The site's international law enforcement efforts are overseen by a former FBI agent who worked on cyber-crime before joining Facebook in 2005.
"It is unfortunate that some people use the internet to maliciously target people either via scams or by compromising accounts on Facebook, over email or on fake websites," the spokeswoman said. "However, unlike other websites, or email, or even the phone, we provide our users with robust reporting tools to report any content they are unsure of and anything which violates our terms, will be removed quickly."
• Facebook has declined to say when its location-sharing service Places will be rolled out to the rest of Europe. Although it was announced in the US last month and launched in the UK last week, Michael Sharon, product manager for Places, would only say: "We are taking it slow to make sure we have a high-quality experience [in all localities]."
The impact of technology on privacy is currently at the fore of public debate in Germany, with calls for regulation intensifying around Google's planned Street View rollout in the country. Despite this, Allan told the Guardian that the privacy settings on Facebook Places will "stay the same across all of our major markets", adding: "We follow all developments on privacy across Europe and we're confident that [Places] suits the requirements of all the major markets we operate in.
"Places is comparable to being able to mention people in status updates. The critical thing to note is that Places is about individual users. Everything is done by the users, nothing is done without the user's knowledge. So while we're sensitive to the privacy debate around Europe we believe our products fit the requirements of the countries we operate in."
Facebook has an ongoing relationship with child safety organisations and NGOs, as well as having a safety advisory board to compose its privacy settings which at one point ran into the hundreds for individual users. Allan said: "We're trusting the common sense of our users and finding [Facebook products] are valuable and useful in everyday lives."