An 8 year old Arizona boy was charged last week with the premeditated killing of his father and another man.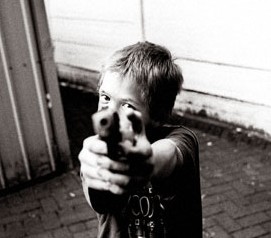 The news of the shooting became public when the prosecutors released to the news this week an hour long interrogation which led to the boy's confession. On the video the boy first denies firing the gun which killed both his father, Vincent Romero, 29, and Timothy Romans, 39, a boarder in the Romeros' two-story home in St. Johns, a rural community outside of Phoenix. However, after an hour of questioning and while on tape, the boy changes his story and admits shooting them twice, saying that they were already wounded before he fired.
Even though now in the public eye, this confession will likely never see the courtroom experts say. Since the confession came while the child was being questioned and occurred before the police ever told the boy of his right to silence and to a lawyer, and because he was interviewed without a parent or a lawyer present, it is likely to be deemed inadmissible. Although the prosecution claims the reason the child was not told of his rights or able to have a parent or lawyer present was because he was not a suspect at the time of questioning, this argument will likely fail. As soon as the questioning revealed he was no longer a victim and might be a suspect that's where the questioning should have stopped. At this point the boy was likely under a custodial interrogation at which time his constitutional rights were violated and the confession would be inadmissible. The boy is being held in a juvenile detention center, though he is to spend Thanksgiving with his mother on a 48-hour furlough. Police are also pushing for the 8 year old to be tried as an adult; however, most experts would agree that this would be more than extraordinary given the child's young age and lack of criminal history.