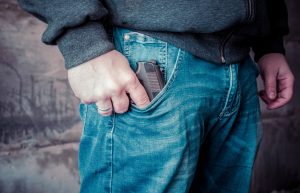 On Monday, May 3, a federal magistrate judge in Ft. Lauderdale ordered Coral Springs resident Horvin McKenzie, Jr. to be detained in light of his federal trial for attempted murder, narcotics, and firearm charges. Mackenzie, 28 years old, was among the two men arrested last month for shooting at law enforcement officers conducting a drug trafficking investigation in Dania Beach, FL.
According to court documents, McKenzie and his co-defendant, David Johnathan Venture, planned to sell two kilograms of cocaine to a third party. Mackenzie and Venture met the buyer in a retail store parking lot located in Dania Beach. Law Enforcement Officers were informed of the scheduled interaction and showed up at the meeting spot. Upon confirming McKenzie and Ventura's involvement, they approached the defendants but were met with shots as they came closer. Both men were taken into custody. It was later found that they were in possession of two kilograms of cocaine, a Beretta .9 mm semi-automatic handgun, and a loaded Glock .40 caliber semi-automatic handgun.
McKenzie and Venture have both been charged with Attempted Murder of a Person Assisting DEA Agents in Performance of Their Duties, Conspiracy to Distribute 500 Grams or More of Cocaine, Possession with Intent to Distribute 500 Grams or More of Cocaine, and Possession of a Firearm During and Furtherance of a Drug Trafficking Crime.