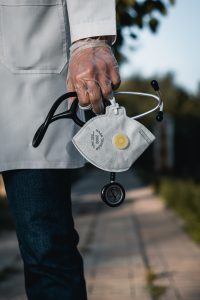 As N95 masks appear to remain in short supply, a major supplier of the masks for those working in the healthcare industry has begun taking steps to counteract the rise of companies looking to sell the masks at a significant markup. The N95 mask supplier intends to file several lawsuits in Florida to tackle the issue of fake vendors.
One of the many lawsuits has already been filed in federal district court against a company that allegedly claimed it had access to the masks being supplied by the major company. What's more, the fraudulent claims were accompanied by the company attempting to sell the masks at a massive markup above the list price.
As last month's protective mask inventory in Florida fell to concerningly low levels, the Florida Emergency Management Division attempted to sign $500+ million in no-bid purchase orders with dozens of mask vendors, several of which had not received approval to sell N95 masks.
To read more, visit https://www.tampabay.com/news/health/2020/04/17/maker-of-n95-masks-says-its-targeting-floridas-fraudsters-and-profiteers/.
This update is published by The Law Offices of Mark Eiglarsh, a Fort Lauderdale criminal defense lawyer. Areas of practice include criminal defense, white collar crimes, federal and state drug crimes, fraud, DUI, sex crimes, domestic violence, and more. With over two decades of experience, Mark is committed to obtaining the best possible outcome for his valued clients under difficult circumstances. For more information or to schedule a consultation, please call 954-500-0003 in Broward or 305-674-0003 in Miami.
This information is provided for educational or informational purposes only and should not be construed as legal advice. The information is not provided in the course of an attorney-client relationship and is not intended to substitute for legal advice.