Casey Anthony's legal team wants her reaction to the discovery of her daughter's remains to be kept out of court.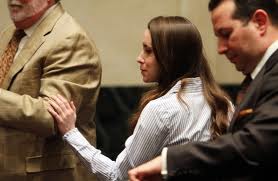 A motion filed late Wednesday requests that surveillance video taken of Anthony at the jail on the day her daughter's remains were discovered not be allowed in court.
The video, which was blocked from public release by an earlier judge, reportedly shows Anthony's reaction to news reports of the discovery of her missing toddler's skeletal remains.
Anthony's lawyer, Jose Baez, said the video was taken without her knowledge and at the direction of the Orange County Sheriff's Office.
"The Orange County Sheriff's Office had made prior arrangements with the Orange County Department of Corrections to place Miss Anthony in a location where security cameras that were originally intended to monitor inmates for safety purposes were positioned to record Miss Anthony's verbal and/or nonverbal reactions to the…television reports," the motion states.
"Miss Anthony was led to believe she was being taken to the clinic for medical purposes and was unaware she was being recorded."
The motion claims the video is a violation of Anthony's Fourth Amendment right to counsel and that despite asking to speak to Baez, the two were not allowed to meet until the sheriff's office "ruse" was completed, according to the 10-page motion.
The video is irrelevant and could create a prejudice if allowed in court, the motion states.
Casey Anthony is charged with first-degree murder in the 2008 death of her 2-year-old daughter Caylee Marie Anthony. She is being held without bail at the Orange County Jail. Her trial is slated for May.