Seattle defensive end Raheem Brock was arrested for investigation of driving under the influence just hours before the Seahawks traveled to Arizona to face the Cardinals.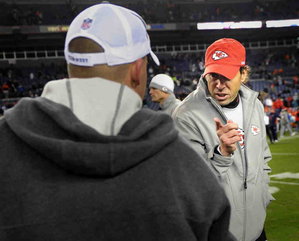 Washington State Patrol Trooper Julie Startup confirms Brock, a former Temple standout and Dobbins graduate, was arrested early Saturday morning in Seattle. KCPQ-TV in Seattle first reported Brock's arrest.
Brock played in Seattle's 36-18 win over Arizona. Seahawks coach Pete Carroll said yesterday he didn't know about Brock's arrest until after Sunday's game. Carroll says he spoke with Brock yesterday morning and the team will deal with it once all the information has been obtained.
Brock has 13 tackles and three sacks this season.
NOTEWORTHY
* Kansas City coach Todd Haley apologized for refusing to shake hands with Denver coach Josh McDaniels after the Chiefs' blowout loss the day before.
Haley made a single comment to McDaniels as the Denver coach held out his hand after the Broncos' 49-29 victory in Denver. Haley pointed his finger at him, turned and stomped away without shaking.
In his opening remarks to reporters yesterday, Haley offered his apology before he was asked about the incident which instantly became a hot topic around the league.
Haley declined to say what upset him.
Audio of the brief exchange between the two was provided to the Associated Press by WDAF-TV in Kansas City. McDaniels does not speak but Haley can clearly be heard saying as he pointed at the Denver coach and turned to walk away, "There's a lot of [expletive] being talked about you."
* New York Giants second-year receiver Ramses Barden broke his left ankle and also tore a ligament in the ankle in the 33-20 loss to the Dallas Cowboys Sunday night, coach Tom Coughlin said.
* Chad Pennington's latest shoulder injury has ended his season, but Miami Dolphins coach Tony Sparano says Chad Henne might be available for Thursday night's game against the Chicago Bears.
The Dolphins signed veteran Patrick Ramsey yesterday and placed Pennington on reserve-injured.
* Carolina rookie quarterback Jimmy Clausen's status for next week is uncertain because of a concussion. The Panthers were seething over the play that may have gotten Clausen hurt. They claim a couple of Tampa Bay players recklessly dived into the pile as Clausen was stuffed shy of the goal line on fourth down on Carolina's final offensive play Sunday in the Buccaneers' 31-16 win.
Receiver Steve Smith said Aqib Talib and Sean Jones "went head first into Jimmy." Replays showed Talib appeared to hit Clausen with a helmet-to-helmet hit. Smith then shoved Talib and was given a 15-yard penalty.
* Minnesota Vikings coach Brad Childress says Brett Favre is "sore" but has no plans to get an MRI on his throwing shoulder and should be ready to play against Green Bay on Sunday.
* Jerricho Cotchery has a "slight" tear in his left groin that could sideline the New York Jets wide receiver for the next game. Cotchery said an MRI exam revealed the injury, which occurred in overtime of the Jets' 26-20 victory in Cleveland on Sunday.
* Buffalo Bills coach Chan Gailey all but officially ruled out C.J. Spiller, the team's rookie first-round draft pick, from playing in Buffalo's game at Cincinnati on Sunday. Spiller injured a hamstring against the Bengals.
* Cleveland Browns starting linebacker Scott Fujita has an injured left knee ligament and Cleveland coach Eric Mangini says one of his defensive captains "could be out for a little while."
Mangini confirms Fujita injured a ligament but did not provide any other specifics. Mangini added that right guard Billy Yates is likely done for the season with a biceps injury.